Many of us have been gazumped while in the process of buying our dream home. Conveyancing specialist, Victoria Cranwell, considers the legality of this practice, and how to reduce the chances of it happening to you.
To discuss your conveyancing requirements, including requesting a conveyancing quote, our conveyancing solicitors are available on 01225 462871. Alternatively, you can contact them by email, or complete the Contact Form at the foot of this page. Conveyancing quotes are also available online.
Waiting for a seller's response to your offer on a new home is nerve-racking, so when the agent calls to confirm it's been accepted, it feels like time to open the bubbly. But as many of us discover, you are not quite home and dry. Until contracts are formally exchanged, you remain exposed to the dreaded practice of gazumping.
What is gazumping?
Gazumping is when your seller accepts an offer from somebody else on the property you are in the process of buying, pushing you back to square one in your search for a new home. In addition to the disappointment and frustration, it's likely to have wasted considerable time and expense. With the shortage of property on the market throughout the Stamp Duty holiday, gazumping has been particularly prevalent.
In most cases, gazumping occurs because the new offer received is higher than yours and the seller wishes to maximise the amount they receive. However, it can also happen where the seller believes that for whatever reason, you are taking too long and the new buyer is in a better position to proceed quickly.
In 2019, Market Financial Solutions (MFS) published the results of their research on gazumping. Their key findings are listed below.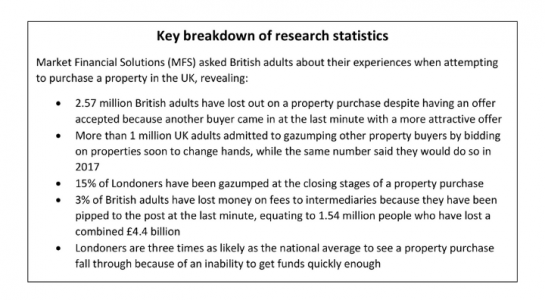 Gazundering
Gazumping should not be confused with gazundering, which is where a buyer reduces their offer before exchange of contracts.
Is gazumping legal?
While many believe it's morally wrong, gazumping is not illegal. The agreement between you and your seller does not become legally binding until contracts are exchanged. This is widely illustrated in estate agents' windows and on property websites with properties continuing to be listed but advertised as 'Sold STC' – subject to contract. Buyers will sometimes offer an inducement in return for the seller agreeing to remove the listing. However, that in itself only reduces the prospect of another buyer becoming aware of the property; it does not prevent gazumping.
How to reduce the chance of being gazumped
There are steps you can take to reduce the prospect of being gazumped. These include:
Be prepared to move quickly: Before making an offer, be sure you have in place a mortgage agreement in principle and that you have already instructed your solicitor. Once the conveyancing process is under way, respond promptly to all requests for information and documents.
Ask the seller to remove the property listing: This is one of the best ways to prevent gazumping, although sellers are often not keen unless you make it advantageous to them.
Get to know your sellers and ensure they are kept regularly informed: A seller who can see you are serious, that you love their property, and are doing everything possible to move the process along is less likely to abandon you in favour of someone else.
Discuss a "lock out agreement": This is a contract between the parties agreeing that for a certain period of time, the buyer has the exclusive right to buy the property. There will be a modest cost involved in drawing up the agreement but it may well appeal to a seller looking for reassurance that you are in a position to proceed quickly.
Home Buyer's Protection Insurance
Taking out Home Buyer's Protection Insurance does not prevent gazumping, but it does mean that you are insured for at least some of your financial outlay if it happens.
Will gazumping be banned?
In recent months, the government say they have been exploring possible solutions to the problem of gazumping. In March's Budget, they announced "We will publish a call for evidence on how to make the process better value for money and more consumer friendly." In reality, "a call for evidence" means that it's likely to be some time before any draft legislation comes forward.
It could mean making the house purchase legally binding at an earlier stage of the process, possibly immediately upon acceptance of an offer. One party can still pull out before contracts are exchanged, but only if they pay the other party's costs.
There have been calls in some quarters for a system akin to that which operates in Scotland, where the deal is binding once missives (a series of contractual letters) are exchanged. This prevents both gazumping and gazundering. But this system is not universally popular in Scotland as the onus is on a purchaser to have carried out all necessary checks before they make an offer, on the off chance that it will be accepted.
Others are pushing a system similar to that in France, where there is a 10 day cooling-off period following acceptance of an offer.
Estate Agents Gazumping Policy
While we all hope the estate agent will act honourably, it's a sad fact that a minority do encourage gazumping. If they are working on a percentage, the higher the sale price, the higher their commission. But remember, the seller is their client, not the buyer. As such, their job is to achieve the highest price and all offers they receive must be put to the seller.