The 1st April 2020 deadline is looming for residiential landlords to ensure their rental properties comply with energy efficiency regulations. Specialist landlord and tenant solicitor, Mike Hansom, is ready with some practical advice. Should you have any questions, please call him on 01225 462871, email him or complete the Contact Form at the foot of this page.
Businesses are increasingly facing up to and taking steps to reduce their carbon footprint. The driving force may be compulsion (regulation), a need to lower costs or a desire to be seen occupying the moral high ground.
The reality is that over the coming years there will be increasing pressure on all of us to substantially reduce or even eliminate our carbon footprint and, through compulsion, business will be in the vanguard of emissions reduction. And that includes residential landlords – in fact, the starting pistol was fired some years ago.
MEES
As a result of The Energy Efficiency (Private Rented Property) (England and Wales) Regulations 2015 (the "MEES Regulations"), since 1st April 2018, unless an exemption applies, landlords have been prohibited from granting a new tenancy, renewal or extension unless the property has a minimum Energy Performance Certificate (EPC) rating of at least E. From 1st April 2020, this applies to all tenancies – that includes existing ones.
This means that after 1 April this year, all landlords whose properties fail to comply are likely to breach the MEES regulations, making them at risk of a fine. The maximum fine per property is £5,000.  It is possible to register for exemptions, but these are temporary.
The energy-efficiency of a property is graded between A and G, with A being the best – ie most energy-efficient – and G being the worst. As you would expect, new-build homes tend to have high EPC ratings, while older homes often have lower ratings of around D or E.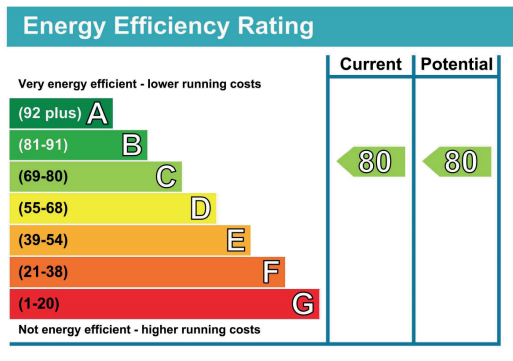 But frankly, with an average rating of D across all dwellings in England and Wales, it's not surprising that the murmurs from government are that they see a minimum rating of E for rental properties as just the starting point. So don't be surprised if, whether incrementally or otherwise, the next few years sees an upwards movement of that minimum to C.
How to improve an EPC rating
There a many ways to improve the EPC rating of a property, some far more involved (and potentially expensive) that others. Here are five straightforward steps:
Insulate the loft or roof
Heat is lost easily through the roof if it is not insulated properly. The recommended thickness of insulation is 270mm.
Insulate the walls
Heat also escapes through the walls. Having cavity wall insulation injected between the inner and outer brickwork can make a significant difference to heat loss.
Exclude draughts
This may seem like small change, but it can make a real difference. Properties do need some air to circulate to prevent condensation, but consider:
Fitting a brush strip to the bottom of doors.
Installing double glazing or, if that is not feasible or affordable, use caulk, spray foam or weather stripping to seal draughty windows.
Fitting a plate to stop cold air coming in through the letter box.
Fitting metal discs to cover keyholes.
If the fireplace is not used, fit a chimney draught excluder or have the chimney pot capped.
Upgrade the boiler
Older boilers can be inefficient and maintaining them can be expensive.
Fit low-energy lighting
Installing low-energy LED or CFL lighting is a quick and easy way to make a saving on electricity bills.
The cost of improving an EPC rating
Landlords will be pleased to hear that the expenditure requirement to improve an EPC rating is not open ended. The government has imposed a costs cap of £3,500 for carrying out improvements to raise an EPC rating to E or above. While this means that a landlord cannot be required to spend more than that, in most cases the cost will be less. Also, in calculating the overall cost, you are permitted to include the cost of any work done since 1st October 2017 to improve the energy efficiency of the property.
If the works will cost more than £3,500, as long as you can demonstrate that you have done as much as possible up to that sum, you can register an exemption. This will give you a period of 5 years before you are obliged to try to improve the rating again, and if applicable you can apply for a further exemption.
Is there any financial help available for landlords?
The 'Green Deal' was withdrawn in 2015. However, some government grants are still available towards the cost of loft and cavity wall insulation. The government's online energy grants calculator can help you to find out whether you are eligible for help.
The Energy Saving Advice Service can advise what help is available in your local area (if any) and whether you would qualify for financial assistance. You can call them on 0300 123 1234.
Don't forget that if they pay the fuel bills, your tenant may also be eligible for an insulation grant, so this is worth investigating with them on the basis that you will pay any balance due.